Our Products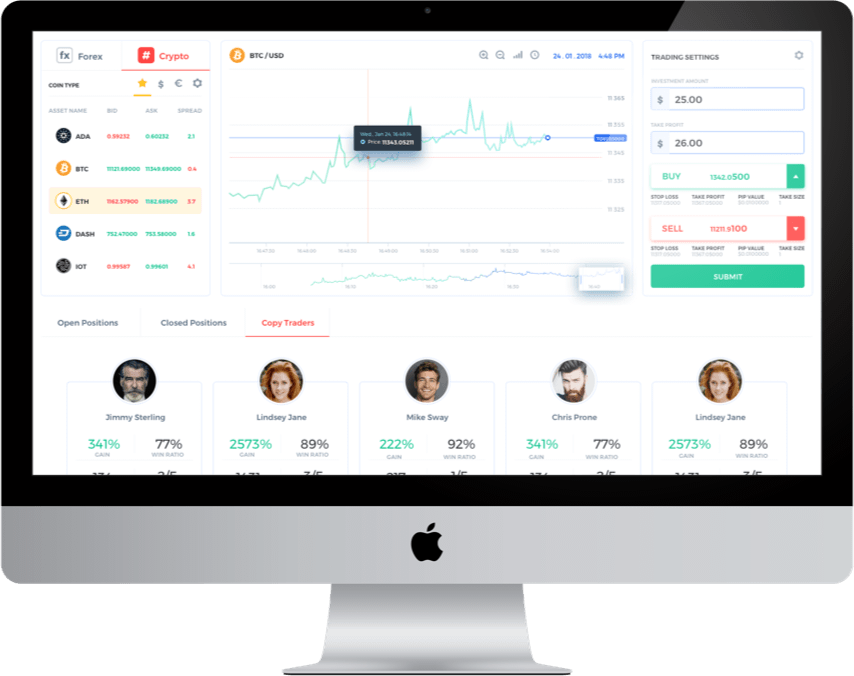 FRONT END
Crypto Currency Trading
Yes, Crypto is hot right now. But, a strong trend is not enough to convert your traffic. Our goal is to give you all the needed tools to convert your traffic and reach a solid R.O.I.
We are constantly improving our trading platform to make it as user-friendly as possible. Combine that with a sophisticated CRM, automated retention tools, cascading PSP, full control over assets, payouts, and spreads, and you have all you need to reach your target R.O.I and beyond.
Forex Trading
Forex trading is a robust trading experience and intended for those traders who are ready to "Step Up" to a more dynamic trading environment. To make the shift for newcomers seamless, we created a simplified trading platform.
No need for difficult concepts like leverage, margin, and shorts, it's all in the background. Advanced features are also available for the more experienced traders. But, the initial entry into Forex is made much simpler and comfortable for the uninitiated.
BACK END
Dominating Your CRM
CRM- Sales is the key to your business. With our CRM your sales management will simply be able to function at a level unknown on other platforms. Control your sales flow, build organizational hierarchies, permissions, and have all of your data presented in the simplest and most straightforward.
Cashier - Have complete control of your cascading processor solutions, reporting on all deposits and withdrawals.
Marketing: use our system to utilize Push To Web functionality.
Affiliate Tracking System: Track your affiliates with qualification strategies, ROI calculations, multi-deal calculations, create API along with permissions, Full S2C and S2C pixel tracking, integrated to has offers, Citrin, Affiliate Buddies, and more.
Risk Management: Have complete control over your Risk management with reporting on your PNL, exposure, and with 11 spread groups per trading type (forex/ CFDs, Crypto, and exchange separately), you can completely control your risk settings. In addition, you can decide the level of spread per asset at a click of a button.
Website- part of the package includes a fully designed website you can later control on your own
Control- have complete control over every setting of your setting in the system